Hot Blood Sundae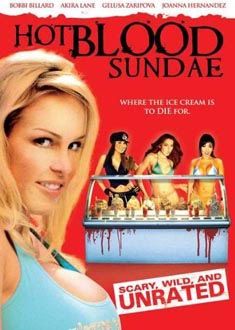 Title: Hot Blood Sundae
Also Known As: Ice Scream: The ReMix
Rating: 2/5
Genre: Exploitation Horror/Comedy
Starring: Bobbi Billard, Akira Lane, Gelusa Zaripova
Director: John Darbonne



"I got the best broads; boobs... one on each side..."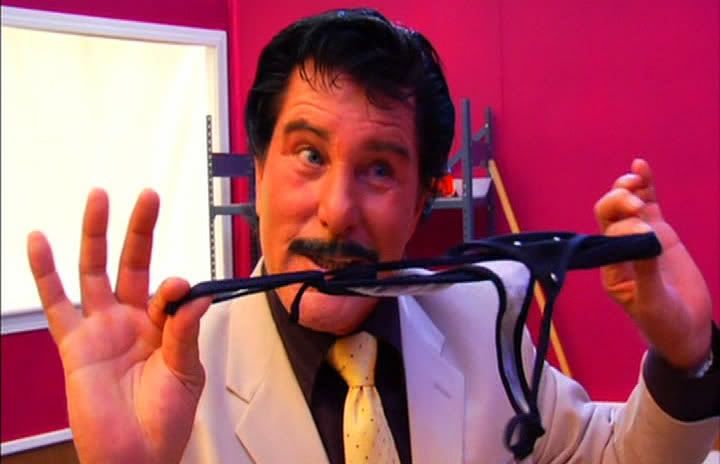 "What sells better than sex," the businessman utters, speaking the mind of the director responsible for delivering this cheap, low-budget schlock excuse for a horror film. It's evident from the very premise that you should expect this to be something of a theme, though I should warn you that it goes far beyond simply being an aspect of the plot; it's the main driving force for most of what is actually shot on film. For Ricky – our shop owner with daddy issues – is striving to make his ice cream venture a success when suddenly the idea hits him: sex. Taking his crew of buxom young beauties – actually just aspiring porn stars I believe – he delivers them their new uniforms to exploit their voluptuous curves. "But my boobs won't fit" one girl says. "Exactly" he replies. Suddenly business is booming with guys dropping their jaws as they ask for a sensual strawberry and watching them bend over to scoop it up for them. Adult themed ice cream; what could go wrong? Well, ignoring the fact that the idea would be retarded in real life.

Enter the problem; an ice cream obsessed ranting lunatic with no apparent motive in his string of violent ice cream related killings, one by one taking the lives of all those beauties and turning them into ice cream related goods. This is what I was here for, the sick and twisted gore hound in me wondering how many ways they could creatively kill using this theme, and the answer as I soon found out was "not many." But at least there's still a comedy aspect, partly delivered in the cop taking home half their stock for 'evidence' but mostly landing squarely on the performance of the young deviant chef, crawling through the air conditioning to watch the girls get changed and delivering his lines in a manner that would have Jim Carrey suing him for trying to destroy his reputation, impersonating his early comedy work so completely and utterly hopelessly that once you realise what he was trying to do, and what it actually turns out as, it does become quite amusing. He may be the comic relief, but you'll be laughing at him and not with him.


I was hoping that this would do for ice scream what "Gutterballs" did for the bowling alley, but ultimately this feels like a poor excuse for a slasher; tossing in a cliché and predictable killer and unimaginative death scenes with badly used fake blood and only really one scene demonstrating any gore beyond the ol' bit o' red. Instead it feels like the director secretly wanted to make a softcore porn film but fearing reactions to it, tried to veil it thinly as 'something more,' tossing around the bare minimum so he could get on with slow-motion scenes of whipped cream fights so randomly placed that you'll wonder whether the director wanted you to scratch your head or masturbate. A good horror film this ain't, but comically there are a few laughs to be had. It's just a shame that when the sheer silliness of a ice cream killer sinks in, it doesn't really find any other ways to keep things going.